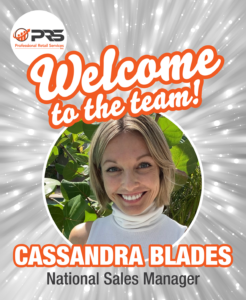 Professional Retail Services, a prominent facility maintenance company with over two decades of industry expertise, proudly announces the appointment of Cassandra Blades as its newest Business Development addition. The company's strategic growth initiatives, backed by a legacy of excellence spanning over 20 years, have recently expanded its corporate headquarters, doubling its current square footage. This expansion sets the stage for heightened capabilities and a stronger commitment to delivering top-notch facility maintenance solutions. Professional Retail Services' consistently impressive growth will continue to flourish with Cassandra's expertise as National Sales Manager .
Since 2017, Cassandra has been deeply entrenched in the realm of facilities management. Her client-centric philosophy prioritizes active listening – perceiving both spoken and unspoken needs. Her approach prioritizes understanding as a precursor to being understood, a strategy that resonates with clients and fosters sustainable relationships. Through her dedication and integrity, she has consistently expanded her customer base, earned prestigious awards, and charted new professional trajectories.
Founder and CEO of Professional Retail Services, Kathleen Larmour, expresses her enthusiasm for the latest addition to the team: "We are thrilled to welcome Cassandra Blades as our National Sales Manager. Her consultative business acumen and rich background in facilities make her an invaluable asset for our clients. Her experience aligns perfectly with what clients seek in a facility maintenance partner."
Cassandra Blades brings a diverse and accomplished background to her role. Born and raised in Morris, IL, she is deeply rooted in her country upbringing. Her journey through academia commenced at Columbia College in Chicago, where she pursued dance transitioning to the University of Illinois in Urbana-Champaign, culminating in a BA in English and an opportunity with Ikon Office Solutions, where in her newfound role gained invaluable insights into corporate sales dynamics. Her sales career path had led her through Pharmaceutical Sales, Landscape Design and Architecture, and Healthcare before her passion for facilities emerged as a focal point.
"I take immense pride in my journey – where I come from, the experiences that have shaped me, and the path I've walked to reach this point. These values are crucial to me, as I aspire to exemplify honesty, kindness, and passion in all things that I do." Cassandra shared.
Cassandra Blades' addition to Professional Retail Services fortifies the company's commitment to excellence, client-focused strategies, and continued growth. Her remarkable journey and expertise bring a fresh dimension to the team, positioning the company at the forefront of the facility maintenance industry.
For media inquiries, please contact:
Jana Coyle
Sales & Marketing Director
jcoyle@profretail.com
631-719-7261
About Professional Retail Services: Professional Retail Services is a leading facility maintenance company with a 20-year legacy of delivering exceptional solutions to diverse clients. With a recent expansion of its corporate headquarters, the company is primed to redefine industry standards and exceed client expectations. For more information, visit https://profretail.com.